Oahspe Book of Knowledge Part I:
30. Tae said: I will reason with Thee, Jehovih, for all I know shall be
based on science and truth

. From
Thine own perfection am I inspired to this end, and my talents shall be
strengthened by pursuing the
exact sciences of all the known truths

. Neither will I put away mine own judgment, nor accept for truth
that which is at variance with Thy established laws.
The Worldwide List of Alternative Theories and Critics
------------------------------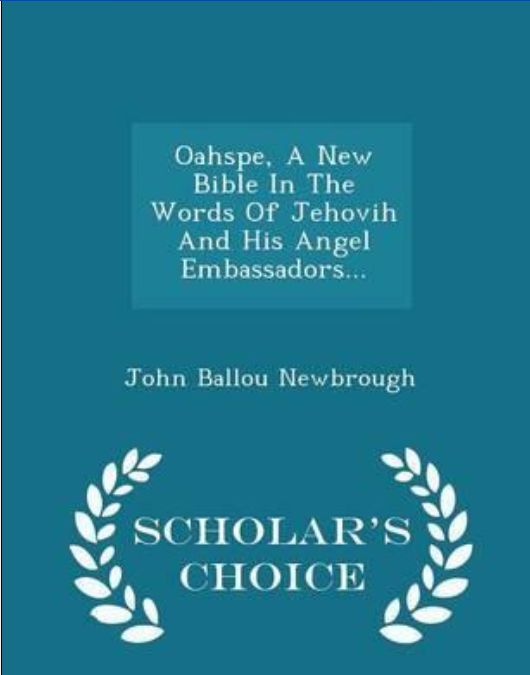 Delusions in Science and Spirituality: The Fall of the Standard Model and the Rise of Knowledge
-
The scientific, spiritual, historical, and prophetic study of the amazing book named Oahspe. OAHSPE is a NEW BIBLE in the
WORDS OF JEHOVIH and his Angel Embassadors. The old Bible was written 2,000 or 3,000 years ago and was written for that
time, like an elementary school book was written for elementary children. The old Bible was written for the Iron Age. OAHSPE is
a college book for man of this modern Atomic/Space and Information Age with new revelations to man. As Oahspe says It is not
revelations can reach them.
-
we reveal university-college teachings to adults
(this applies to the mass-multitude of people, not to the few who are gifted or advanced beyond their age). We imitate The Creator,
the Creator also teaches mankind in stages, grades, or cycles, The Creator withheld somethings from mankind in the Iron Age,
(approximately 90 years after and 90 years before).
Notice in the childhood stage of human developement in the chart above there are two humans grouped together, just as there are
5 = central balance between 0-10 and 1-9, spiritual and corporeal, being good and being independent.
-
5. Adult fully grown or 20 years age or older (Oahspe - Kosmon).
his friends and peers. Although parents are obviously still very important, they don't have the same influence and authority
as in younger years.
-
-
(see links below).
(same pattern as the Linkedln request that appeared to come from Glenn Borchardt).
-
and this website covers that ground. The day has arrived, when man will not accept proclamations and assertions; he wants plausible reasons,
-
-

image hosting without account



image hosting no registration


Kosmon 165 (the year 2013) was a harmonic warm above average year multiple of the first rule of
prophecy or 33 (Spell) and the year 1881 (Oahspe transmission), along with the 99th (Wave) year
1947 (UFO wave, Secret of Light published by Walter Russell).
-
Kosmon cycle?
-
was like for the fur trappers of the 1820's, the Crow Indians of the 1830's, the pioneers of the Southwest in the
OAHSPE BOOK OF INSPIRATION CHAPTER III:
9. Jehovih saith: ...
knoweth it is from Me.
-
is doing. They blast away at Oahspe and Newbrough as much as they promote their favorite
shall appear as a spontaneous light, permeating the soul of thousands; and they shall come forth,
So much for your every waking moment being controlled. Oahspe teaches us to be free and to Think for
Oahspe Book of Es Chapter One verse 11:
been a great labor.
nor the configuration of spiral, bared-spiral and elliptical galaxies throughout the universe. Nor did
Newton or Descartes write that Nebulae was the birthplace of stars, or that the substance of the
outer space to compress gas into a ball. A cloud of hydrogen gas must be compressed to a small
enough size so that gravity can dominate it. For example, our own sun is a stable sphere of gas.
But what force could initially press it into a ball? Scientists have no answer. Experiments indicate
that it would be next to impossible for floating gas molecules out in space to clump together.
There is nothing to compress it. How could the stars evolve from floating gasses? Gravity is not a
sufficient mechanism to do this. In outer space, the gas is millions of times more expansive than
the critical compressed size needed for gravity to hold it as a stable star. Because of this, outward
gas pressures cause these clouds to keep spreading outward! They do not pull together, but
instead gradually move outward. In spite of all the starry theories of the evolutionists, the fact
remains that gas in outer space always has a density so rarified that it is far less than the emptiest
solution of corpor sufficient to put itself in motion; nor sufficient to condense itself; nor to
the view that our expanding universe began with a bang—a big hot bang—about 18 billion years
ago. Paradoxically, no cosmologist could now tell you how the Big Bang ultimately gave rise to
rise to lumpiness. That model assumes the universe started out as a globally smooth,
homogeneous expanding gas. If you apply the laws of physics to this model, you get a universe
can say, at least not yet and perhaps not ever." —*Ben Patrusky, "Why is the Cosmos Lumpy?"
theory might help resolve the EPR paradox by allowing a reference frame in which signals go
faster than light. He suggests Lorentz contraction is perfectly coherent, not inconsistent with
relativity, and could produce an aether theory perfectly consistent with the Michelson-Morley
experiment. Bell suggests the aether was wrongly rejected on purely philosophical grounds:
"what is unobservable does not exist" [p.49]. Einstein found the non-aether theory simpler and
more elegant, but Bell suggests that doesn't rule it out. Besides the arguments based on his
interpretation of quantum mechanics, Bell also suggests resurrecting the aether because it is a
useful pedagogical device. That is, many problems are solved more easily by imagining the
scales, fluctuating and generating particle pairs that appear and disappear incredibly quickly.
Instead of being "smooth", the vacuum is described as looking like "quantum foam". It has
been suggested that this seething mass of virtual particles may be the equivalent in modern
Modern physics is full of concepts such as free space, spin foam, Planck particles, quantum
wave state (QWS), zero-point energy, quantum foam, and vacuum energy.
The 19th century had the ether, the 20th century had the quantum wave state, quantum
foam and the EPR Effect (inseparabilty), and dark matter.
is dragged by the gravity of the earth.
-
Are you in search of an understanding of the Universe and life? Would you like to know the origin,
purpose, and destiny of mankind? Then Oahspe is a book for you. Study Oahspe and find out just
surprising to find some information in it from previous sources. The author/messenger of OAHSPE
is not important. It is the Message that is important, so anyone who is or has attacked John Ballou
Newbrough is wasting their time and is missing the message.
Ray Palmer said Oahspe's BOOK OF COSMOGONY might have been written by today's space scientist
[space age scientist from 1957 to present]. Much of the science in Oahspe has only recently been
"discovered". Newbrough could not have "guessed" so rightly especially in the face of all the authorities
of his day. Today [since 1958] space satellites are discovering "how it is" out in space, while in 1882
[first written in 1881] OAHSPE contained the same information! As an instance, the now famous Van
Allen radiation belts complete as to nature, shape, and height. The scientific reader is overwhelmed by
the science of Oahspe.
belt normally extends from about 1,000 miles above Earth to 8,000 miles (1,600 to 13,000 kilometers).
After a gap, the outer belt runs from around 12,000 to 25,000 miles (19,000 to 40,000 km).