"Your equations are groundbreaking. ...years from now ...will be coming up with the same formulas and claiming kudos for their pioneering work! - Susan B. Martinez, Ph.D." - May 05, 2013
OAHSPE BOOK OF SAPHAH chapter OSIRIS verse 56: ...Save your prophets understand A'ji they cannot tell what the next year will be.
"your orachnebuahgalah work is ground-breaking." - Susan Martinez Ph.D May 01, 2013
Above is Marvel Navy Seal Killmonger with receipts.
9. Jehovih saith: ...
"the orach-nebu-ah-galah definition is incredible, how did that come about was it channeled?" - oahspe101, 01/19/2015.
solar systems. Today, there have been numerous planets discovered
solar systems, just as Oahspe has told us that there are.
1= Equivalent: 4,700,000; 1, 3, 4, 5, 6, 7, 8. Other orbits for other phalanxes.
0. ...
1. C'vorkum circuit number verification to within 5 to 7% using astronomy and math.
ORACH-NEBU-AH-GALAH is an Oracle (ORACH) science that is related to the travel of the Earth (AH) through Nebulous (NEBU) regions within the Galaxy (GALAH).
3. E-O-IH converted to frequencies (Hz) and single digits 9-8-5 and relation to the circumference of a circle, pi, the golden ratio, fibonacci numbers (8/5), and 1600 arc cycles of C'vorkum.
5. I'hin features (short height, blond colors, ) linked to infancy and fetal traits inherited from angelic parents who died in infancy.
7. Vegetation "red-edge" spectral surface feature biomarker interpretation of the red star (Earth) of Oahspe
12. Showing at 2 diameters [200% diameters] the magnetic strength or attractive force of the corporeal worlds is at 0%.
13. Symbolic ratio of E=mc2 (7) to E-O-IH (22) is pi (3.14), diameter to circumference of circle (E=mc2 no longer consider 7 but 8).
14. Connection of Quantum Entanglement to Ethe'ic Solution of Oahspe.
21. Drawing of vortex atomic structure with electron orbits and prophetic numbers 0, 11, 33, 66, 99
22. Connection between the Higgs field and the Ethe'ic vortex with the mass of matter.
26. Connected a'ji and cold years on earth to extremely cold nebula in space.
28. Negative (female) M'vortex'ya > Positive (male) vortex'ya = Chromosome sizes of 23rd pair in humans.
29. Pi Encoded in the chapters and verses of Oahspe's Book of Cosmogony and Prophecy Chapter 3 verse 14 = 3:14 = 3.14
30. Connecting Ctu's (Book of Fragapatti Chapter XVII) explorers home star-system with the Hercules Dwarf Galaxy discovered in 2006 and showing the accuracy of distance traveled by Ctu as described in Oahspe. See Aerospace engineering, space-ships, space travel page of this website between 1/4 and 1/2 way down from top.
* this is why your experiences in a physical body is important in the spirit world. A vortex is a combination of corpor and ethe, both the physical and non-physical.
33. Showed and described how NASA's IBEX Provides First View Of the Solar System's Tail and matches the drawing in Oahspe of the Solar vortex.
corporeal stars were dismembered a thousand million years ago
, now set with a'ji'an fields, and forming nebulae;...
Oahspe says the stars were dismembered (came to an end) one billion years ago and then formed into nebulae, but Oahspe doesn't say when these corporeal stars were FIRST FORMED. Obviously these stars were first formed LONG BEFORE THEY ENDED over 1 billion years ago.
-
-
-----
-
-----
Explained the difference and importance of Objective Knowledge vs Subjective Knowledge according to Oahspe:
-
Oahspe - Book of Lika, Son of Jehovih: Chapter VI:
3. As I bound the corporean that he could not raise up in the air above corpor, save by a vessel, so created I My heavens for the spirits of men, that by manufactured vessels they might course My firmament.
4. For the little knowledge I gave to corporeans I made as a type of knowledge which is everlasting.
11. And they fill My seas in heaven and earth with their great ships; with wants that could not be satisfied in one place created I man. For I drive him forth on strange errands and on missions of profit and love; for I will store him with a knowledge of My works.
--
-
33 + 1848 = 1881 (Oahspe).
33 x 5 = 165 + 1848 = 2013
About the Ark that was found on Mt. Ararat where the Bible says the Noah's Ark came to rest: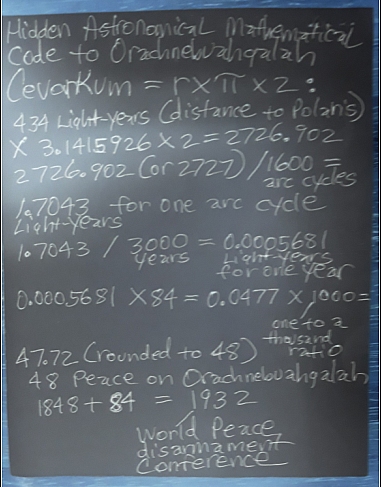 2. C'vorkum symmetrical light-years numbers around a central axis of a vortex.
3. Pi (3.1415926...) numerical code containing prophecy and messages (connecting year to decimal place).
4. Discovered that every thirty-third year (in Kosmon, 1848, 1881, 1947, 1980, 2013) was alike on the earth (globally) in heat and cold (warm above average heat or up-spikes).
5. Genetic ratio (beast to angel) of modern man (I'huan) connected to the golden ratio (1.6) and fibonacci numbers (8/5, 13/8).
6. Connection of Etherean worlds (snowflakes) to geometric pattern of musical harmony (Cymatics sound made visible).
7. Connecting the Quickening to an increase in warm up-spike frequency (Earth's vibrational frequency is rising since 1850).
9. Search Pi binary index infinite string of digits (Converted into ASCII text) for messages.
11. Connecting the Oort Cloud band with etherean arc bands spaced aproximately every 3000 years or 1.7 light-years of Cevorkum.
12. Numbers of the beast (666) are encoded in pi x pi with the cycles of below average cold years and a'ji and war numbers on the ORACHNEBUAHGALAH plate.
Below are the 5 vortex stages of solar and planetary development (creation and destruction):
Above plates from Oahspe (original drawings by John Ballou Newbrough 1881)
Power-Harmony(Light)-Balance(Rest) = 9-8-5 = E-O-IH the Creator, the All-Person
9 = primary vortex, the power that maketh planets
8 = secondary vortex
7 = third age of vortex
6 = fourth age of vortex
5 = rest, uncreation, no vortex, void, without form
>--compression--< = 9-8-7-6-5 = gravitation, spiral inward
4-3-2-1-0 = 9-8-7-6-5 = the wave of creation = 1 cycle
Walter Russell stated that, "In the wave lies the secret of creation."
"Within 9-8-5 (E-O-IH) lies the secret of the sacred divine name and creation" - Author of studyofoahspe.com-
7 = completion of animal life, past the age of begetting, no new species (ho'tu). Oahspe Book of Jehovih Chapter 4:17.
After 5, the cycle, the wave repeats itself, 9-8-7-6-5-9-8-7-6
vortex wave = 9-8-7-6
dual vortex wave octave = 9-8-7-6, 9,8,7,6 = 8
uncreation, rest, no vortex = 5
9 = dual wave octave + uncreation, rest
vortex wave to rest = 9-5 = E-IH of E-O-IH
5 is the center (balance) between 2 cycles or 2 waves = 9-8-7-6-5-9-8-7-6-5 or 4-3-2-1-0-4-3-2-1
OAHSPE BOOK OF JEHOVIH III: 3 SAYS "as thou beholdest the power of the whilwind gathering up the dust of the earth, and driving it together, know that even so do I bring together the aji and jiay and NEBULAE in the firmament of heaven: by the power of the whirlwind create I the coporeal SUNS, and moons and STARS. CHAPTER IV:2 Says "I cause etherean currents to bring forth aji and jiay, and NEBULAE, prior to MAKING CORPOREAL WORLDS."
Oahspe Book of Fragapatti, Son of Jehovih: Chapter III:
11."...seven corporeal stars were dismembered a thousand million [billion] years ago, now set with a'ji'an fields, and forming nebulae;..."
In the book called COSMOS by Carl Sagan copyright 1980 (which I checked out from the Library in 1985), Sagan on page 251 says "But as the stars that outline a spiral arm burn out [explode], new stars and their associated nebulae are formed just behind them, and the spiral pattern persists."
-
Oahspe Book of Cosmology and Prophecy: Chapter II:
5. In the case of a vortex in etherea (that is after the manner of a whirlwind on the earth), the corporeal solutions are propelled toward the centre thereof in greater density.
6. When it is sufficiently dense to manifest light, and shadow, it is called a comet, or nebula; when still more dense it is a planet.
10. Interior nebula is generally described as comets; whilst exterior nebula is usually called nebula. Nevertheless, all such solutions of corpor are of like nature, being as the beginning or as the incomplete condensation of a planet.
16. When a nebulous planet is sufficiently dense to have its corpor polarized,...
9 = a vortex in etherea,the corporeal solutions are propelled toward the centre thereof in greater density.
8 = light = sufficiently dense to have its corpor polarized, = sufficiently dense to manifest light.
Light = polarity of corporeal needles in solution, lined up, in order, harmony = 8.
7-6 = still more dense it is a planet
5 = the vortex shall burst, the planet shall be scattered and gone
5 is the rest point of the pendulum before the cycle (vortex motion) starts again.
15. The Roadway of the Solar Phalanx and the Orachnebuahgalah (Oracle-Nebula-Earth-Galaxy prophecy) plates of Oahspe shows the travel of the earth and solar-system through sub-galactic arcs or bands of light (dan) and darkness (a'ji) that correspond to galactic wave interference patterns. See Cosmic Consciousness, cycles, human behavior, Zodiac page of this website about 6/7 down from top of page.



I got the idea of galactic (or sub-galactic) wave interference pattern of Cevorkum torus from the website below:
https://gatheredin.one/1598/galactic-wave-interference-patterns-and-their-effect-on-global-conciousness/
But I came up with the idea to compare a image of bright and dark interference pattern bands to the bright and dark bands on the Roadway of the Solar Phalanx and Orachnebuahgalah plates in Oahspe.
John Ballou Newbrough's inspired drawing of plate 49 in Oahspe (below) show a cosmic phenomena that has a basis in modern astro-physics.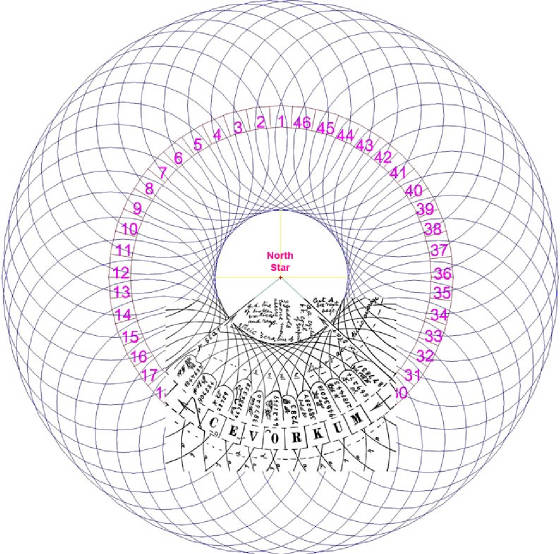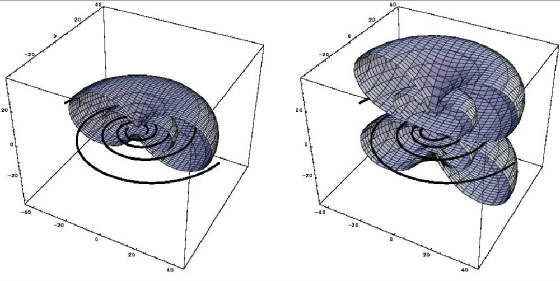 Above cross section of spiral galaxies show torus, magnetic fields, and wave interference pattern. John Newbrough in Oahspe drew a picture of these interstellar wave field patterns existing in the galaxy long before they were confirmed. Images above are from the large northern Spitzer Infrared Nearby Galaxies Survey (SINGS), galaxies were observed with the Westerbork Synthesis Radio Telescope (WSRT) at 1300-1760 MHz (May 2010).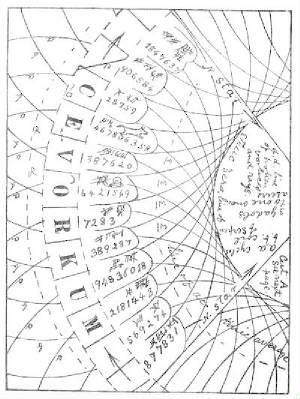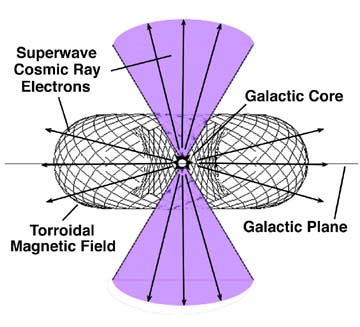 Astrophysics image above shows wave interference pattern very similar to John Ballou Newbrough's sub-galactic Cevorkum torus plate drawing in 1881.
Cosmic rays were discovered in 1912, and the torroidal galactic magnetic field was discovered after 1960, decades after Oahspe was transmitted.
The early observations by Mayer et al. (1957) were the first to give information about the magnetic field in the Crab Nebula, a supernova remnant. Galactic radio polarization was discovered by Westerhout et al., 1962) and Wielebinski et al., (1962).
https://ned.ipac.caltech.edu/level5/March01/Wielebinski/Wiel.html#:~:text=The%20early%20observations%20by%20Mayer,al.%2C%20(1962).
16.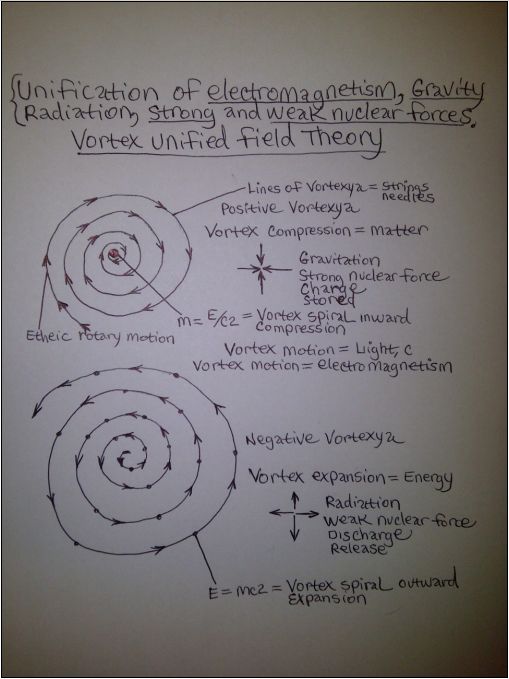 Above is my drawing of Vortex Unified Field Theory of Oahspe, showing atomic mass (matter), strings (lines or needles) of vortex'ya, e=mc2, m=E/c2, radiation, gravitation, electromagnetism, strong and weak nuclear forces all unified in a vortex etheic rotary motion. Heat and fire is liberated stored up vortex'ya. Light = condition of things (ethe'ic needles) polarized (harmonic pionting in the same direction) caused by the vortexian current. Positive vortexya = male, He or Him, Negative vortexya = female, She or Her. The extreme center = balance, rest, no force, 0 or Iesu. See Miscellaneous and Miscellaneous 2 chapters/pages of this website.
Oahspe Book of Cosmology and Prophecy: Chapter I:
17. Vortexya can be concentrated in iron and steel, and in iron ore, in which condition they are called magnetic. And these substances, if poised as needles, will assume the line of polarity of the vortex or its poles.
21. When vortexya is manifested in flames of fire it is called electricity. But when it lieth dormant, as in iron, it is called magnetism.
35. ...a certain time to polarize these infinitesimal needles... But that which is called light is polarity of corporeal needles in solution, caused by the lines of vortexya.
36. ..a magnetic flame called electricity.
45...Attraction, as previously stated, existeth not in any corporeal substance as a separate thing. There is no substance of attraction. Nor is there any substance of gravitation. These powers are the manifestation of vortexya. If vortexya be charged into a piece of iron or steel, it is called a magnet, because it APPARENTLY draweth its own kind to itself.
Oahspe Book of Cosmology and Prophecy: Chapter III: 12. Vortexya can be charged, as before mentioned, into iron and other substances. When it is charged in iron it is called magnetism; when charged in phosphorus it is called light (inactive); when charged in nitrate of silver it is called darkness.
-
Yearly Mean Sunspot Numbers
MAX marks a sunspot cycle maximum and min a minimum.
2008 2.9 min
2009 3.1
2010 16.5
2011 55.7
2012 57.6
2013 64.7
2014 79.3
http://www.sws.bom.gov.au/Educational/2/3/6
Sunspots 2015: Year of the decline
Solar maximum has passed.
Solar maximum activity peaked in April 2014
at an exceptionally low 81.9 spots/day. Waning solar activity in 2015 will begin the long, inexorably journey toward solar minimum over the next half decade.
http://www.commdiginews.com/featured/sunspots-2015-year-of-the-decline-32772/
-
3. 200 year (22.22) 9-based Vortex mathematics prophecy wheel drawing.
4. Using facial recognition software to compare portraits of prophets and lawgivers in Oahspe to photos of other people in percent similarity.
5. New word entry to Oahspe glossary (May 7, 2015): Sortiv = an etherean arc region.
7. Connecting the Oahspe Emblem of wisdom (a hollow crescent) with the hippocampus.
8. Showed and described how Rene Descartes' vortices are different from Oahspe planetary vortices:
Oahspe's celestial vortices are cone-shaped like the magnetospheres of the planets in the solar system:
-
1. I'huan = sub-Saharan African or African-American. Native-American-Indian = ghan not I'huan.
2. Po and Ka'yu of Oahspe were Cauc-asian, white, or same race as Europeans based on facial recognition science.
"My system, in every part and detail, both in the developing of this power and in every branch of its utilization, is based and founded on sympathetic vibration. In no other way would it be possible to awaken or develop this force, and equally impossible would it be to operate my engine upon any other principle." John Keely
"The science of the future will be based on Sympathetic Vibrations." Rudolph Steiner, 1913
"The sympathetic vibratory force discovered by Keely will be quite sufficient to make him the greatest discoverer of this age." H.P. Blavatsky, The Secret Doctrine, 1888
"Mr. Keely has demonstrated he has discovered a vibratory force previously unknown to science.. which, when applied to machinery, must supersede all ordinary appliances." Prof. Joseph Leidy, Md, 1890
"The fact remains that Mr. Keely is able to demonstrate the existence of a stupendous power which has never yet been satisfactorily accounted for by any old and well recognized force." Henry Hudson, The Scientific Arena, 1887
Sympathetic vibratory physics builds primarily upon the work and principles of
See Tornados, name vs concept, flat earth theory, UV-light, sympathetic resonance, spirits page of this website about 2/3 down.
"motion one hundred, or ninety-nine" = the higher 'faster' end of the spectrum = ultraviolet light +
-
One description (Maxwell's) is a noun (behavior) relating to actions, the other description (Oahspe's) is a verb (IS) relating to state of being or existence. State of being or existence is more primary than behavior or actions. The primary state of something is different from what something temporarily does. The primary state of existence or being is an eternal or unchanging definition. There is a difference between describing what a car does and describing what a car is.
1. Identifying Human Kosmon mixed race genotype as rs1426654(A;G).
Our Mathematical Universe by Max Tegmark (cosmologist at MIT).
Cosmic rays from supernovae
Cosmic rays are protons or atomic nuclei that have been accelerated to high energies. They are different from cosmic neutrinos and gravitational waves, which have next to no effect on us, and electromagnetic radiation (photons). Electromagnetic radiation includes radio waves, microwaves, visible light, X-rays, and gamma radiation. How supernovae have affected life | Astronomy.com
https://www.astronomy.com/science/how-supernovae-have-affected-life/
Detailed study of the microwave emission of the supernova remnant 3C 396 Detailed study of the microwave emission of the supernova ...
examples of supernova spectra depicted as intensity and wavelength: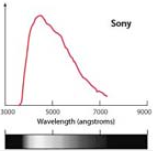 <--Supernova spectra intensity and wavelength
https://skyandtelescope.org/get-involved/pro-am-collaboration/a-field-guide-to-supernova-spectra/
Spectrum of The Cosmic Microwave Background Radiation as intensity and wavelength: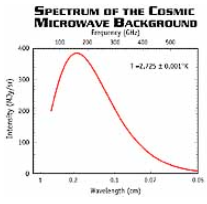 <--Spectrum of The Cosmic Microwave Background Intensity and Wavelength
See Matter - Anti-Matter, Galaxies and Cosmology page of this website 1/3 to 1/2 way down from top.
3. Identification of the horizontal mid-forehead indentation that is seen on the original I'hin drawing in Oahspe and seen on the human Pygmies of Africa.
1. Infant-Toddler 0 - 2 years. Asu = 0-1 (infant, no walk, no talk).
2. Preschooler 2 - 5 years. I'hin = 2-5 (walk and speak).
3. Gradeschooler 6 - 12 years (I'huans, the Bible).
5. Adult fully grown or 20 years age or older (Kosmon, Oahspe).
On page 165 of SEVEN YEARS THAT CHANGED THE WORLD [1940], 1941-1948 by Wing Anderson it has a text table showing 4 Oahspe races and 4 stages of human development. Wing Anderson has the I'HIN as INFANT, I'HUAN as CHILD, GHAN as YOUTH, KOSMON as MANHOOD. My 5 stages that correspond to 5 races in Oahspe is better, more inclusive, and more accurate than Wing Anderson's 4 stages.
In May of 2016 I showed how 5 human development stages in Oahspe corresponded to human 5 st-ages or ages from the Stone Age to Bronze Age to Iron Age to Industrial Age to Space Age, but did not connect those 5 stages to 5 human races in Oahspe yet:
-
The slope of a pyramid based on phi (golden ratio, Fibonacci numbers) is 51.83, the slope of the Great Pyramid of Giza is 51.87 (99.92% same).
See Mathematics of Israelites and sub-Saharan Africans, CASTA SYSTEM page of this website about 1/3 to 2/5 down from top.
2. Describing and connecting the fractal architecture and spirituality of sub-Saharan Africans to the mathematical knowledge of the Israelites.
3. Describing the races of man in Oahspe as mathematical iterations of a recursive process of mix-breeding with the goal (Kosmon) of 5 iterations, the same way fractals are generated.
4. Using imgonline.com.ua (image recognition software) to identify similarity between two pictures (races in Oahspe to other pictures) in % (percent).
5. Showing how man's behavior (world war) corresponds to the vortexian currents of the earth (terrestrial magnetism):

-
1. Discovering through magnification of drawing by Newbrough the African like upper and lower thick lips of the I'huan.
The sine wave serpentine like motion is why the solar phalanx is called the great serpent in Oahspe.
-
-